Is a Copper mine located in the copper rich Katanga province of the Democratic Republic of Congo. Our software engineers were sub-contracted in 2013 to provide Siemens PCS7 ver8.0 engineering services from design up to the commissioning phase which was implemented over a period of two (2) years. The system comprised of the various stations as per the system architecture below and consisted of 1600 remote I/Os, 580 devices (VSDs and simocodes) and various vendor system interfaces on profibus. ABB Protection relays were installed in the medium voltage cabinets (Incomers, Transformers and Lineas) which were used to monitor these cabinets from the PCS7 system via anybus modbus convertors. This project was successfully completed in 2014.
System Architecture: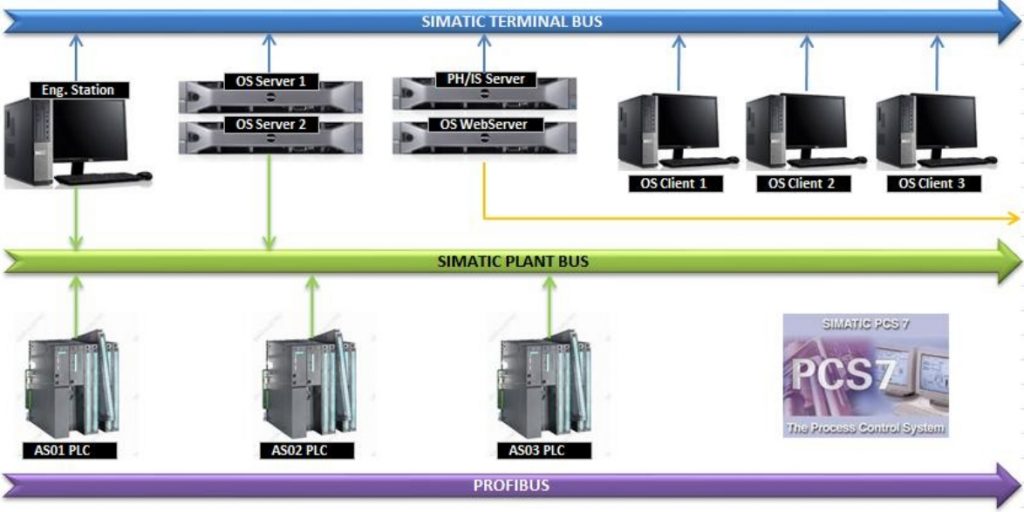 Scope of Engineering Services:
Installation and configuration of all AS and OS stations. Setup and configuration of a granular type multi- project environment.
Develop software standards by means of process tag types using standard Siemens APL blocks. This included the mapping and configuration of Siemens MM440/G120 VSDs and Simocode Pro Vs.
Provide software and hardware standards for vendor interfaces to Siemens S71200 and S7300 systems.
Present various standard Siemens block icons and faceplates to establish Scada standards.
PLC and Scada software development as defined by the Process functional specifications.
Factory acceptance testing of the various OS/AS stations, MCCs and software.
Audit and certify profibus networks.
Site acceptance testing of networks and software.
Commissioning of the various systems and process circuits including fault analysis.
Performing system integrity testing.
Derived process report templates using Microsoft Excel via Information Server.
Provide remote support services.