Is an open-pit copper cobalt mine in the Katanga Province of the Democratic Republic of Congo. After completion of phase 2 and 3, our software engineers secured the sub-contract in 2011 to continue with Phase 4 expansion control system and to provide Siemens PCS7 v7.4 engineering services using existing standards from Phase 2/3 implementation. The system comprised of the various stations as per the system architecture below and consisted of 1800 remote I/Os, 700 devices (VSDs and simocodes) and various vendor system interfaces on profibus. This project was successfully completed in 2013 over a period of two (2) years.
System Architecture: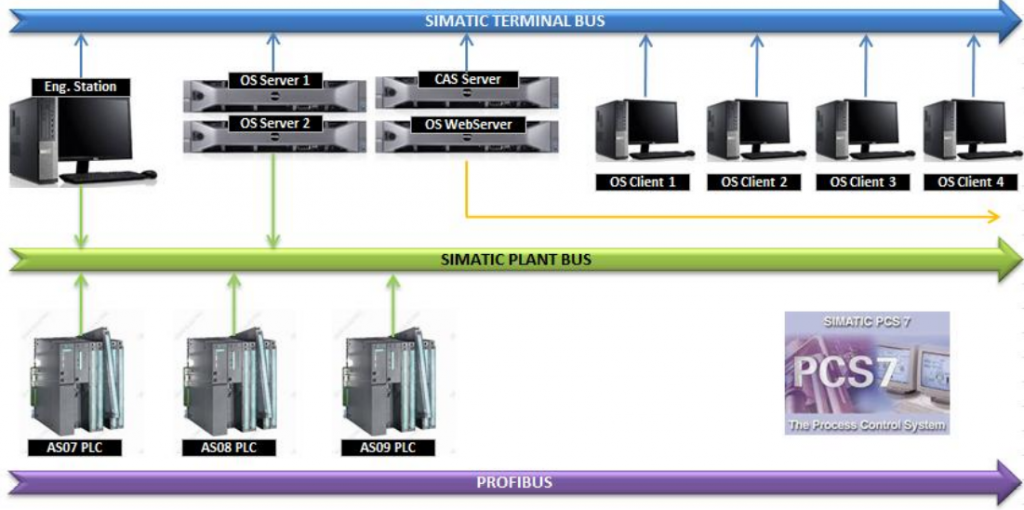 Scope of Engineering Services:
Installation and configuration of all AS and OS stations.
Setup and configuration of a granular type multi-project environment.
PLC and Scada software development as defined by the Process functional specifications.
Factory acceptance testing of the various OS/AS stations, MCCs and software.
Provide excel worksheets derived from Process Object View to allow quick and easy software implementation of signals from remote IO stations into their respective PLCs.
Audit and certify profibus networks.
Assisted with Siemens MM440 VSD parameterization.
Assisted with Simocode Pro v setup and configurations.
Commissioning assistance when required.
Provide remote system support services.