The Yanfolila Gold Mine, located in southern Mali, is a high grade open pit mining operation, which poured first gold in December 2017. Enviroblue secured the contract late 2015 to design, develop, implement and commission the main control system using Siemens TIA Portal V14. SP1 & WinCC v7.4 solution. Our solution was customized as per the specifications provided. The system comprised of the various stations as per the system architecture below and consisted of 906 remote I/Os, 202 devices (VSDs and simocodes) and various vendor system interfaces on profibus. We successfully completed the project in December 2017 and was awarded the contract to support the system. We were also awarded Phase 2 contract in 2018.
System Architecture: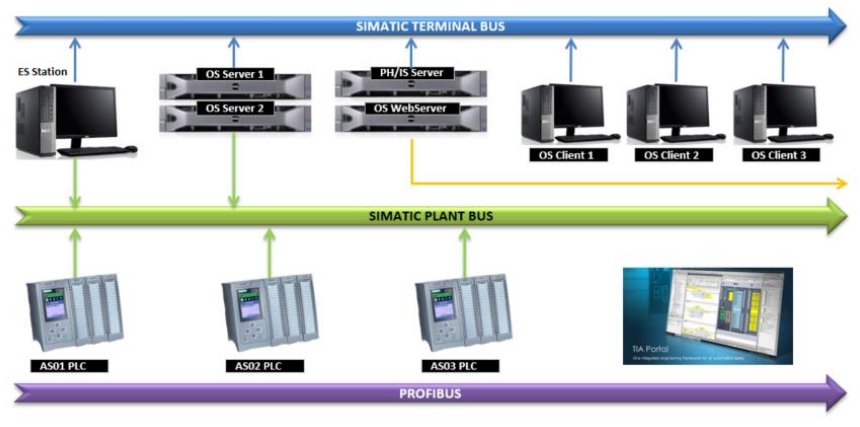 Scope of Engineering Services:
Installation and configuration of all Automation and Operator stations.
Supply, installation and configuration of Process Historian and Web Server
Build of granular type multi-project environment.
PLC and Scada software design and development as defined by the Process functional specifications.
Supply and manufacture of Server, PLC and Remote IO panels.
Profibus fiber splicing and OTDR testing.
Profibus network testing and rectification of faults/failures.
Assisted with Siemens G120/G130 VSD parameterization.
Assisted with Simocode Pro v setup and configurations.
Commissioning assistance and fault analysis of main plant software and hardware.
Interfacing of the various vendor packages into the Process Plant control system.
Assisted the various vendors' with commissioning and software changes.
Assisted with MCC testing.
Provide remote system support services.